When an alien resides with you in your land, you shall not oppress the alien. The alien who resides with you shall be to you as the citizen among you; you shall love the alien as yourself, for you were aliens in the land of Egypt: I am the Lord your God.

Leviticus 19:33-34
With the growing number of people in the world fleeing for their lives, our community has decided to continue to help.  2000 years ago, after Jesus' birth his parents fled to Egypt as refugees to taking him with them to save his life.  Sadly, tyrants who kill to protect their regime are not just an ancient phenomenon and we want to ensure that vulnerable people are given every opportunity.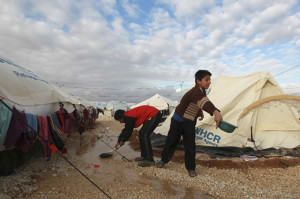 At Holy Nativity, as we seek to love our neighbours as ourselves we had a special collection last Sunday for the St Augustine's Centre on Hanson Lane. This was then doubled by the Church Council to £300.  This will help the St Augustine's Centre to continue to work locally in Calderdale with refugees.  They hope to raise £10,000 before the end of the year for this work.
Our small part in this grows from an ongoing concern in our community for those displaced from their homes around the world.  When the Syrian crisis began to escalate a year ago the church council decided then to respond by helping the aid agencies financially.  It seems only fitting that we now continue to help at a more local level.
As part of our ongoing commitment to this cause, the harvest festival offering will be for the St Augustine's Centre.  If you would like to help, please bring dried food or tinned goods to the service on October 11th at 10am.