On Sunday the 8th of June, the day of Pentecost, a small group from Holy Nativity travelled up to York Minster to celebrate the creation of our new diocese of West Yorkshire and the Dales. The Archbishop of York, Dr John Sentamu led the service as during which our new Bishop, The Right Reverend Nick Baines became our spiritual leader.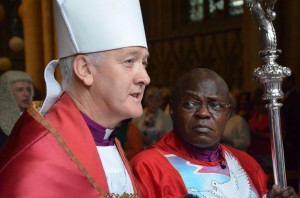 The Archbishop of York tells us that "at Pentecost we celebrate the inauguration of the Church when God the Father poured out the Holy Spirit on a group of Jesus' friends who were frightened but were faithful followers who went on to change the world.  That call remains the same for us all, especially in the new Diocese of West Yorkshire and the Dales.  In the midst of our excitement or our fears about the future, God the Father pours out the Holy Spirit to renew our lives as well as enabling us to tell others about Jesus Christ and to participate in transforming our communities. Let the Holy Spirit fill us, empower us and send us out with grace and wisdom.  We have lift off!"
York Minster is a phenomenal monument to God and to hear it filled with the praise of four cathedral choirs was amazing. For us at Holy Nativity this signals the beginning of a new phase as we begin to relate to the new smaller area within the diocese, Huddersfield Episcopal Area. We continue to pray for the appointment of a new Bishop for our area. We pray that God will send the right person to lead us into the future. Bishop Nick added that "In the power of the Pentecostal Spirit we will show that we have the nerve and vision to do something new – with all the risks and opportunities this brings". It is an exciting time to be part of The Church!